'Tis the season
Crunchy leaves,
Sunflowers
Apples
I have a thing for signs on salvaged wood.
The beauty of saving something and turning it into a bit of art.
The barn doors are really my thing.
Big and bold statements in the home.
Original paint.
Crusty hardware.
What could be better? I used a graphic
I altered it a bit here and there to fit my salvaged door.

I likethe graphic nature of fonts.
And add the freehand detailing for a one of a kind piece.
Waa

laa,

fall

inspired
art.
I love the change of season.
Makes me feel full, warm, cozy
--even in the muggy heat.
Thanks to all for sharing on Market Monday.
So many fabulous things to see. Go take a peek at
Atelier
Cecilia Rosslee
to see some gorgeous art.
Love her style and use of color.
Her work is simply yummy.
Go say hello!
Molly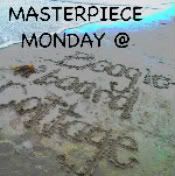 SO...what are you waiting for?
MARKET MONDAY
Here are the rules:
1. Must be a follower here.
2. Anything goes, show us your creations.
3. Place my button in your post, sidebar or use a text link.
4. Go visit someone new...show some love!